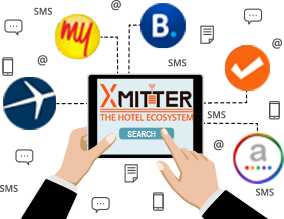 Channel Manager
One interface to boost online visibility and maximize room occupancy.
Our easy-to-use channel manager comes with advanced features that simplify online inventory distribution and help bring more guests your way. Leave the hassle of multiple logins behind and let Xmitter Channel Manager help you efficiently manage pricing, bookings, inventory and much more across multiple OTAs through just a single interface. Display your available inventory and promote all your rooms at once across online channels to attract more bookings. Optimise the efficiency of your online inventory distribution by linking your booking engine and your channel manager to work in sync with each other.
---
Why is Xmitter the best Channel Manager for your hotel?

User friendly
Our channel manager has been designed to facilitate a seamless inventory management experience. A single login gives you access to all important data about your rooms.

Quick Updates
All available rooms will be promoted, based on conditions that you define, to all online channels without manual involvement.

Smart Rate Update
Quickly make modifications in room rates by percentage or amount as per your requirement.

Common Pool Inventory
This feature dynamically updates inventory of rooms to sell across OTAs and helps avoid overbookings.

Walk-in Reservations
You can update walk-in reservations into the channel manager and it will automatically adjust the inventory across all OTAs, no more manual increasing or decreasing of inventory required.

Manage Bookings
Easily modify pricing and availability for selected days and room types in real-time. Maintain rate parity across OTAs.

Intimations and Alerts
You will receive email notifications when inventory is 'Low' or 'Sold Out', as per conditions you set.

Hotel Performance Reports
Take better decisions based on relevant information. You can get monthly reports on online bookings with data about room nights, room types, room rates, and revenue generated.

Premium Rate Shopper
It will show you the room rates for competitors you select, across several online travel agencies and sales channels for upto a month's duration at a time. Review the comparison data and strategically modify your pricing.

Promotions
Promotions help to make your hotel rooms stand out from competition. Increase sales by creating special offers and attracting more guests.

Audit Logs
Audit Logs will maintain a record of all the changes and updates performed.

Graphical Report Analysis
You will have access to real-time data about bookings arranged in simple graphical charts.
---
Our Channel Partners